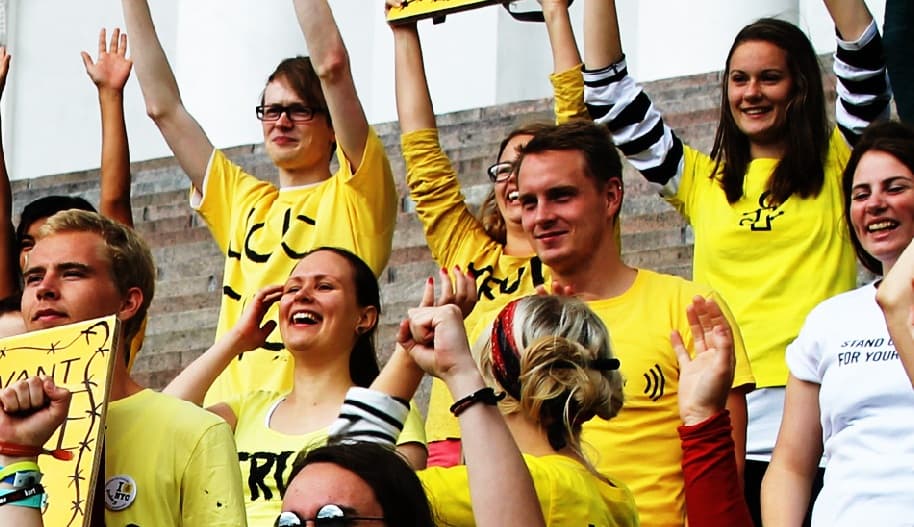 Nordic Youth Conference 2022 is organised in Finland! Read more about the event and apply!
Nordic Youth Conference
What is the Nordic Youth Conference?
The Nordic Youth Conference (NYC) is a yearly event for youth aged 16-24 from Finland, Sweden, Norway, Denmark, Iceland and the Faroe Islands. Every year around 50 youth activists meet in this gathering to learn about human rights and activism. In 2022 the conference will be organized in Finland and it will take place from the 27th of June to the 1st of July.
In the conference you will learn about different campaigning methods, take part in inspirational workshops and lectures, as well as plan and carry out your own public action in Helsinki! On top of this you get to spend a week with other young activists from the Nordic countries and create connections that can last a lifetime!

The conference is organised in English. In order to apply fill out the application form by the 15th of May and let us know why you want to take part in the activism event!
Conference theme: Israel's apartheid against the Palestinians
Apartheid is a word from the Afrikaans language in South Africa and it means "separatedness". A system of apartheid is the institutionalized oppression and domination by one racial group over another. It is a serious human rights violation which is against international law and is a crime against humanity.
Amnesty International researched the situation of Palestinians in Israel and the Occupied Palestinian Territories for over two years. We found out that the systemic oppression is everywhere – it happens through laws, policies and practices which are so extensive that they make sure that Palestinians are cruelly discriminated in almost all levels of society.
In the last 73 years hundreds of thousands of Palestinians have been forcely evicted and their homes have been destroyed by Israel. Forced removals and the destruction of homes take place every week causing indescribable suffering and lifelong trauma to the Palestinians.
More than six million Palestinians have lived as refugees for decades. Even today, at least 150,000 people are in real danger of losing their homes.
The system of oppression is also manifested in the racist expropriation and discriminatory land use laws, planning and zoning. Because of them, building their own homes is completely impossible for many Palestinians. Israel is also massively destroying homes that have been built without proper permission – one that is not, in principle, even granted to the Palestinians.
Overall the lives of Palestinians are often severely restricted by arbitrary laws and practices making it difficult for them to enjoy their rights and even move around freely due to many military checkpoints.
Note: The target of Amnesty's campaign is the state of Israel, NOT jewish people.
What can YOU do?
The more we hear about Israel's actions against the Palestinians, the more people around the world are ready to rise against injustice. Now is the time to join forces. The first step is to raise awareness on the Palestinians' suffering under the Israeli apartheid regime. Together we have the power to crush apartheid – even if it happens little by little.
Want to be a part of this? Apply by filling out the application form by the 15th of May and let us know why you want to take part in the activism event!
Practicalities
Applicants must be between 16 and 24 years old
Participants under the age of 18 need parental permission to attend the conference
Participation fee is 50 €, Amnesty covers other expenses (travel, meals, accommodation, insurance)
The language of the conference is English
10 participants will be selected based on the applications
The application period is open until May 15th
Amnesty emphasizes equality and equity in its work. We welcome applications from people with disabilities, of different genders and from linguistic, cultural and other minorities.
Further information: emma.aman@amnesty.fi
APPLY TO THE NORDIC YOUTH CONFERENCE 2022
---