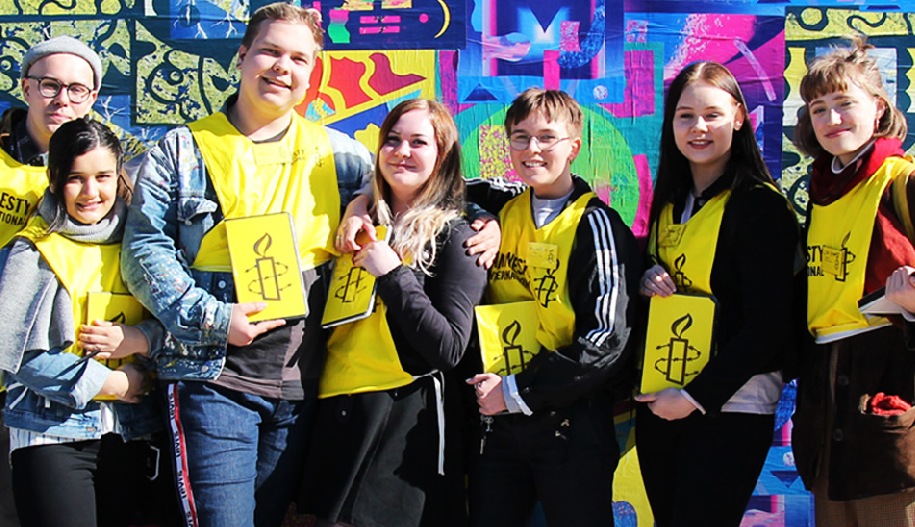 Face-to-face fundraisers and team leaders needed!
Are you looking for meaningful, fun and interesting work?
We are now looking for face-to-face fundraisers and team leaders in Helsinki! Apply now!
As a fundraiser you can work flexible hours, during days or evenings, from March to November.
As a  fundraiser, you will do important work by getting monthly donors for Amnesty, without which our independent human rights work would not be possible. Fundraising is all about meeting people, so we take special precautions (e.g. taking care of hand hygiene) to protect our workers and the people they encounter. We also provide our employees with face masks.
We offer
opportunity to work in the world's largest human rights organisation
cheerful and supportive work team
modern work equipment
competitive salary: depending on experience 12 € to 14 € per hour + 9% annual leave compensation and a rewarding bonus system
flexible working hours that allow you to work between 3,5 and 6 hours per day 2 to 6 days a week, for example while studying
thorough training for your role
as a team leader, get management, administration and team motivation experience
Please apply if you are
outgoing, confident, and enjoy talking to people
believe in Amnesty's work and want to contribute to it
are ready to work at least 9 hours per week (22,5 hours during the summer)
are results-oriented in your work
are at least 16 years old
Apply by the 30th of June 2022. We are constantly interviewing potential applicants so please send your application as soon as possible. The interviews are conducted remotely on Microsoft Teams. 
Any questions? Don't hesitate to contact our f2f coordinator Kalle! You can reach him via email at kalle.lapinoja@amnesty.fi or by phone at 044 334 6254.